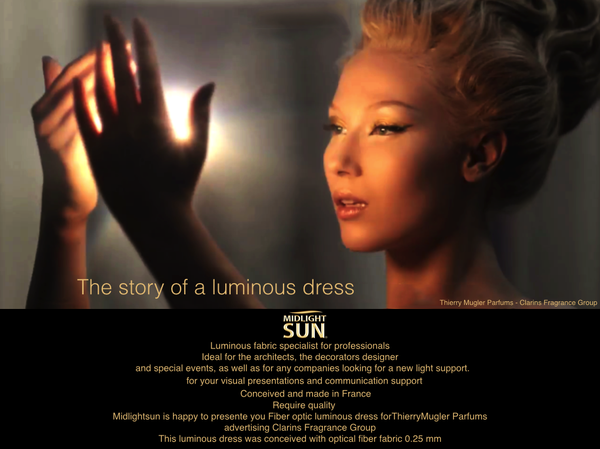 http://www.midlightsun.com/bright-fabrics-157-en-us.html
Luminous fabric specialist for professionals
Ideal for the architects, the decorators designer and special events, as well as for any companies looking for a new light support. for your visual presentations and communication support
Conceived and made in France - Require quality
Midlightsun is happy to presente you Fiber optic luminous dress forThierryMugler Parfums advertising Clarins Fragrance Group
This luminous dress was conceived with optical fiber fabric 0.25 mm
The bright optical fiber fabric is a solution for multiple applications lights in the areas of lighting , communications , security , decoration , showbiz , fashion and clothing ...
The integration of this technique in architecture paves the way to many applications, such as large-area flat light , creating bright glass walls inside or outside ( patented technology ) , and applications to the floor, ceiling and wall.
The light fabric is based on a unique and original technique. This technique helps build fiber blended with other fibers. The fabric thus obtained has values ​​close to those of an ordinary synthetic material properties , but also has the remarkable property of emitting light when connected to a specific electronic module.
The electronic module is powered either by battery or by a small mains transformer (for fixed decoration pieces , etc ... ) or generator for very long lengths / areas.
Depending on the type of electronic unit , the light can be of different colors .
According to the desires of our customers, we have generators emit a single color (called monochrome generator ) or generator RGB : Red - Green - Blue .
To adjust the brightness and vary the texture colors RGB generators we use to control DMX devices and infrared remotes. We can also provide you with modulators.
Jacquard weaving makes the fibers to appear in a predefined pattern . The portion of the fabric on the machine makes the illuminating fiber portions forming the units . The illuminating areas are determined by the intensity of the processing performed by the CNC machine .
The feed of the fabric can be done by LEDs positioned on the end of a slider fabric .
This technique meets the fire / smoke and make it possible to consider the realization of luminous textile structures strained or flat or curved rigid complex .
Several achievements have highlighted the potential "big box" of this technique :
surfaces with uniform illumination to several tens of square meters
very light structures and slimline
sources integrated lights and low power consumption
Whether your project is decorative in nature or even artistic, we will use all means possible to ensure its feasibility and completion as soon as possible.
Do not hesitate to contact us.
Tel. 00 33 6 09 26 51 56
Tel. 00 33 2 43 84 49 98
Luminous fiber optic fabric
Luminous fiber optic fabric for Thierry Mugler Parfums - Clarins Fragrance Group