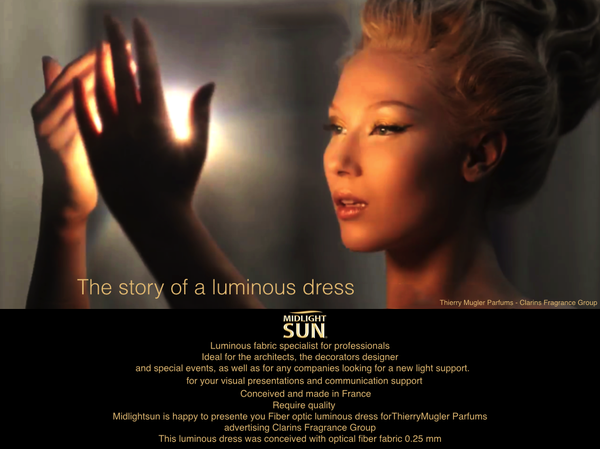 Luminous fabric, fiber optic fabric, Luminous clothing, glowing fiber optic... MIDLIGHTSUN
Visual presentation and advertising medium :
MIDLIGHTSUN® is pleased to present the fibre optic Luminous Dress made for the advertisement by Thierry Mugler Perfumes - Clarins Fragrance Group.
This luminous dress was designed using 0.25 mm fibre optic fabric.
If you're looking for innovative, original light-emitting products, we have the solution... innovative solutions which have not yet been put on offer and are not yet on the market...
We have new materials and new technologies which will make you stand out visually from the crowd in modern, unusual and innovative ways. With these, you'll be able to create a sensation amongst your customers and ensure your designs make a long- lasting impression on them.
Some of the various applications are as follows: interior design development, hotel decor, shops, exhibitions, shows, product launches, openings, advertising, fashion, theatre, film sets, advertising materials, innovative and original packaging, signage, safety, and so on.
Our main customers are: hotels, restaurants, bars, caterers, event agencies, advertising agencies, PR firms, sign manufacturers and fitters, decorators, designers, architects, fashion designers, costumiers, dress designers and lighting designers.
As each of our applications differs, we study our customers' specifications on a case- by-case basis in order to fit your needs best.
Whether your project is of an architectural, decorative or artistic nature, we will make every effort to ensure its feasibility and finalise it as swiftly as possible.
Don't hesitate to get in touch with us.
midlightsun.france@gmail.com
ANTOINE Jean-Paul
+33 (02) 43 84 49 98
+33 (06) 09 26 51 56
Luminous fabric, fiber optic fabric, Luminous clothing, glowing fiber optic... MIDLIGHTSUN